Maryland Advocates Achieve Legislative Wins
Wysiwyg
Thanks to our hardworking advocates in states like Maryland, AIM is leading the way to pass laws that improve the lives of those living with dementia and their caregivers. In Maryland's 2022 legislative session, advocates worked to develop, introduce and grow support for several bills that became laws. These laws will build Alzheimer's awareness, improve the quality of care statewide, and help build out the public health infrastructure to help Marylanders impacted by Alzheimer's and other dementia. 
Maryland's Fiscal Year 2023 Budget 
Maryland's Fiscal Year 2023 budget includes dedicated funding for Alzheimer's and other dementia for the first time in state history. The $3.5 million commitment, championed by AIM advocates and the General Assembly and supported by Governor Hogan, is an extraordinary step to help the over 110,000 Marylanders living with dementia and their caregivers.
The Dementia Services Act of 2022 (SB 27/HB 166) 
Thanks in part to the efforts of AIM's dedicated volunteer advocates, the Dementia Services Act was signed into law. The law requires the establishment of a full-time Director of Dementia Services Coordination at the Maryland Department of Health. The position will be responsible for the coordination of services affecting Marylanders with dementia and their caregivers and families. In addition, it makes Maryland's Virginia I. Jones Alzheimer's Disease and Related Dementias Council permanent and requires an Alzheimer's State Plan to be issued every five years.
Maryland Health Care Commission — Assisted Living Programs — Study (HB 636/SB 531)
Following a campaign by AIM advocates, this legislation was passed into law, requiring the Maryland Health Care Commission to conduct a study to understand how we can elevate the quality of care provided by our state's 1,285 assisted living facilities with nine or fewer beds. As we seek to learn from the disproportionate impact the pandemic has had on our long-term care facilities, this study, which will include a focus on people living with dementia, will provide recommendations to help Maryland's seniors in need.
State Board of Examiners of Nursing Home Administrators — Renaming and Licensure of Assisted Living Managers (HB 1034/SB 270)
This legislation was also enacted into law thanks in part to the hard work of our advocates. This establishes a licensing and regulatory system for assisted living managers under the Board of Long-Term Care Administrators, and requires all assisted living facilities to have a licensed manager. This new law will set an important standard of care across all facilities.
Thank you to Maryland's tireless advocates and bipartisan state champions for your dedication to advancing policies that support Marylanders living with Alzheimer's and other dementia. 
Be a Champion in the Fight to End Alzheimer's
Our voices are stronger together. Help AIM advance legislation to improve the lives of people impacted by Alzheimer's and all other dementia.
Share your story with elected officials
Engage on social media
Write a letter to the editor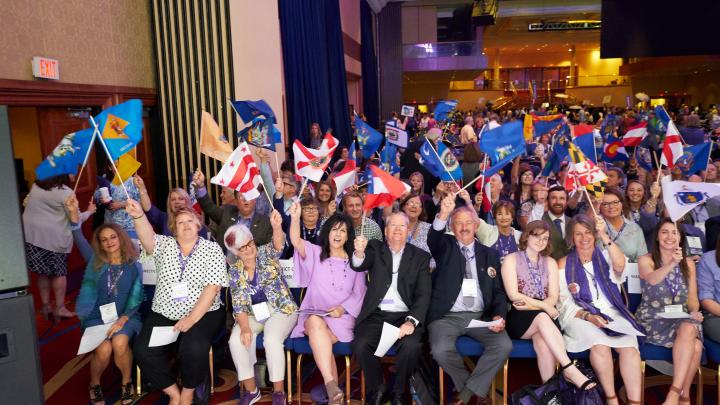 Nationwide State Priorities
AIM is working with state lawmakers to implement policies to improve the lives of people living with Alzheimer's and other dementia, and their caregivers. Explore the issues.