Each month, we're featuring an advocate who engages with policymakers to ensure priorities that improve the lives of people impacted by Alzheimer's and all other dementia remain top-of-mind in Congress.
In 2010, Belinda Jennings' mother was diagnosed with Alzheimer's disease. Belinda was living in Nashville at the time, but the very day of her mother's diagnosis, Belinda quit her nursing job and got ready to move to care for her mother. 
"My mother was one of my best friends on this planet," said Belinda. "She was fun, a pediatric intensive care nurse, brilliant, smart, funny, kind, giving, everything you'd want in a mother. Her humor was priceless. I know I became a nurse because of her."
When Belinda's mother was first diagnosed, Belinda remembers an early conversation she had with her mother.
"What's wrong?" asked Belinda's mother.
"You have Alzheimer's and you're going to forget," said Belinda.
"Do I?" her mother asked.
"You do, but that's okay. I'll remember for you," said Belinda.
"Okay," her mother said.
"I told her, 'Don't worry about it. I got you.' And that's how we did it," said Belinda.
Living in Richmond, Virginia as a nurse and caregiver for her mother, Belinda first got involved with the Alzheimer's Association and then attended her first AIM Advocacy Forum in Washington, D.C. When she moved to the Atlanta area, she sought out the Alzheimer's Association to continue her advocacy. Just last month, Belinda attended the Advocacy Forum for the 14th time. 
"For me, getting involved with the Alzheimer's Association was a way to take my pain and make a purpose," said Belinda. "It's my driving force to channel my pain and make it into something good. My mother didn't die for just nothing. I have to come for Alzheimer's. It's personal."
Reflecting on her advocacy experience, Belinda remembered a particularly impactful meeting with her elected official. After the member of Congress asked how much the bill was going to cost, Belinda instinctively put down a photo of her mother on the table and responded, "You tell me. How much is my mother worth?" Belinda said others at the meeting started chiming in "almost like they had practiced, "'Tell me how much my grandfather is worth.' 'Tell me what my husband is worth.' By the time we were done there was a stack of pictures on the table," finished Belinda. The congressman talked about the meeting for months afterwards according to a member of his staff. 
"I need [policymakers] to understand that there are real people attached to every story," said Belinda. "These are real people and real families that are being touched. It was so powerful."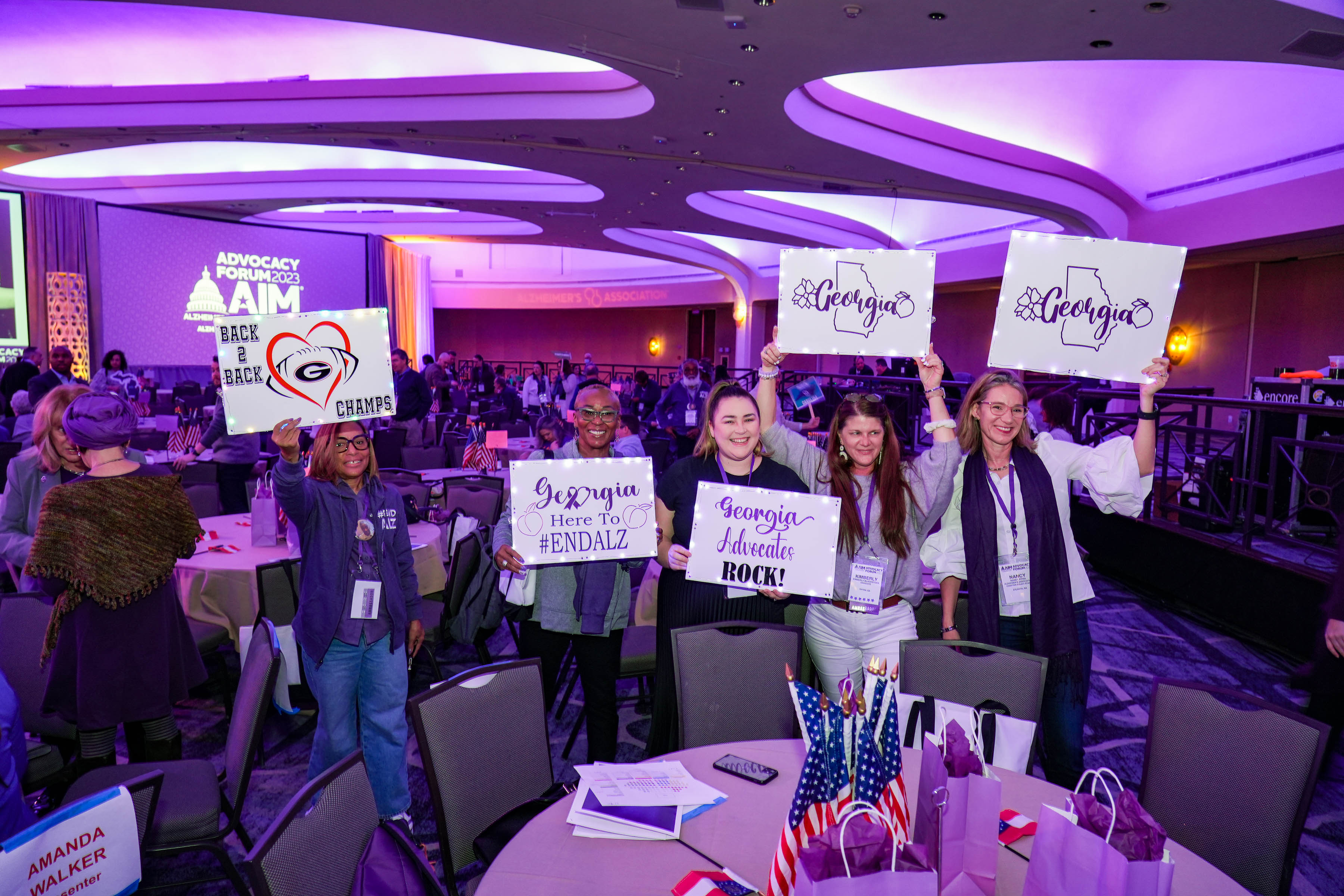 Belinda is passionate about the recent efforts to ensure access to Food and Drug Administration (FDA)-approved Alzheimer's treatments. "I would have moved heaven and earth to be able to give something like that to my mom. Just to have more time. That's all they're asking for is time." 
At the Advocacy Forum this year, Belinda reunited with old friends and made new ones. "I was speaking with someone living with Alzheimer's, and she was saying, 'To have hope dangled in my face but not be able to reach it,' and then she just broke down. All I could do was stand there and hug her and cry with her, because she's right."
Currently working at a U.S. Department of Veterans Affairs (VA) primary care facility in a rural community in Georgia, Belinda was pleased with the VA's recent decision to cover FDA-approved Leqembi. Belinda immediately shared information with every provider in her building and is personally trying to make sure eligible patients get access quickly. Belinda has seen the challenges rural communities face in accessing health care firsthand, and she was frustrated by the Centers for Medicare & Medicaid Services (CMS) decision that limits access to only those enrolled in a clinical trial. 
"I don't understand how we can have all these brilliant minds all over the world working hard, feverishly to do the research, coming up with [new treatments], and then people can't have it. I don't get it."
Belinda has become the unofficial Alzheimer's resource at her clinic. "I've become the person to call when others know someone going through this. I've been able to be an encourager to them as they go through this process, but I always point them to the Alzheimer's Association," said Belinda. 
She makes sure to share the Alzheimer's Association 24/7 Helpline. "When they get to where they're overwhelmed, I'd tell them, 'You can call 24 hours a day and somebody will help you. I've had to pull over on the side of the road and make that call. Just call. Don't try to overthink it. It's okay.'"
Still wearing her purple nail polish with white ribbons she got before attending the Advocacy Forum, Belinda is staying positive. "I want my grandchildren to know a world without Alzheimer's. I fight for them too. I want them to say there used to be this thing called Alzheimer's. That would be so cool."